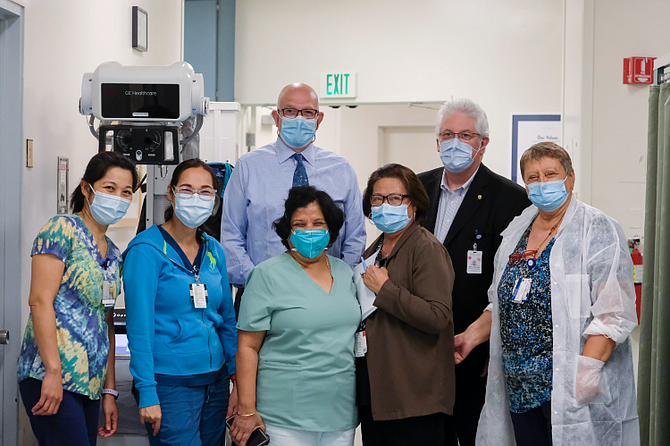 Operating a system of hospitals that provide care for mostly low-income Medicaid patients in historically underserved communities can be challenging even in good times.

With repeated patient surges from the Covid-19 pandemic, the task becomes even more daunting.
Yet El Segundo-based Pipeline Health System — which operates four "safety net" hospitals in Los Angeles County, plus two in Illinois and one in Texas — appears to have weathered the crisis and is now looking to resume an expansion effort that began three years ago.
"We have expertise in providing effective care at a lower cost, and that has created an opportunity for us to expand and become a national company," said Andrei Soran, chief executive of Pipeline Health.

Soran, who was brought on earlier this year to helm the expansion effort, said Pipeline Health is looking to acquire additional safety net hospitals within Southern California, should any become available for sale, and to expand its presence in Illinois and Texas.
L.A. roots
Pipeline Health traces its roots to 2008 when a group of investors purchased two financially underperforming safety net hospitals in Los Angeles County, Memorial Hospital of Gardena and East Los Angeles Doctors Hospital, with the aim of turning them around. The investors named the new company Avanti Hospitals.

Two more local hospitals soon joined the Avanti network, Community Hospital of Huntington Park in 2010 and Coast Plaza Hospital in Norwalk in early 2011.
From the beginning, Avanti's hospitals provided mostly basic emergency care services. They did not have costly high-level trauma centers or highly specialized advanced surgery programs such as those offered at Beverly Grove-based Cedars-Sinai Health System and Westwood-based UCLA Health.

This allowed Avanti to keep a fairly tight lid on costs; for example, its hospitals didn't have a lot of high-priced specialty surgeons or academic researchers on staff.
Avanti received a huge boost from a state law that went into effect in 2010 aimed at bolstering hospitals reliant on low-income patients. The law levied fees on non-safety net hospitals to raise a pool of money that could be used to assist safety net hospitals.

According to figures provided by the Hospital Association of Southern California, of the 94 hospitals in Los Angeles County, 44 are considered safety net hospitals, where the vast majority of patients are either on Medicaid (in California, Medi-Cal) or are uninsured.
In the first four years of the state's 2010 fee program, Avanti received an influx of about $60 million, according to a 2013 Business Journal article.
"This law greatly helped Avanti get off the ground and actually start to turn a profit," said Craig Beam, an independent hospital consultant in Orange County who has held several board positions at hospitals and managed care organizations.
In 2017, two of the original Avanti investors, Nick Orzano and Mark Bell, started a new venture called Pipeline Health, focused on taking Avanti's business model and applying it to hospitals in other states. Their first purchase, completed in 2018, was City Hospital at White Rock in Dallas. Purchases of two hospitals in the Chicago metro area soon followed.
In 2019, Orzano and Bell bought out the other Avanti investors and then renamed the entire company Pipeline Health.

Covid impact
Just as the newly renamed Pipeline Health was looking to expand, the Covid-19 pandemic hit.

Soran said expansion plans were put on hold as the existing hospitals had their hands full treating Covid patients, acquiring personal protective equipment, and making sure there were enough beds and ventilators available.
Pipeline Health did not face as big a loss of revenue from the Covid-induced freeze on scheduled surgeries as other hospitals such as Cedars-Sinai or UCLA Health. But because of their locations in underserved communities with high numbers of essential public-facing workers, Pipeline's hospitals were hit hard by the pandemic's repeated surges.
"We set up two tents for Covid patients, and we had those tents up for almost a full year," said Victor Carrasco, chief executive of East Los Angeles Doctors Hospital.
Carrasco said his hospital had to wait nearly six months to receive its $5 million allocation from last year's CARES Act hospital funding package. That delay exacerbated a cash crunch that had developed as patient volume plummeted due to Covid fears, and the hospital had to spend about $6 million on everything from PPE to upgraded air filtration systems and temporary health care worker staff.
Soran said the CARES Act funds — when they finally did arrive — stabilized the situation enough that Pipeline could resume its expansion effort and launch a capital program for its existing hospitals.
Toward that end, in late July, Pipeline Health exercised a repurchase option with Birmingham, Ala.-based Medical Properties Trust Inc. for another sale-leaseback of the land underneath its four Los Angeles County hospitals. The first sale-leaseback deal, reached in 2012, involved the sale of real estate under three of those four hospitals for $86 million, according to a 2013 Business Journal article.
The price for the repurchase of the land was not disclosed.
Soran said much of the up-front proceeds from this repurchase sale-leaseback deal would be used to make facility improvements at all seven of Pipeline's hospitals.
As for the expansion, consultant Beam said Pipeline will have to focus much of its effort outside the region.
"There's only a limited number of these safety net hospitals: They don't come up for sale very often," he said. "This is especially true since that provider fee legislation took effect in 2010; with the financial position of safety net hospitals more stable, the current owners and operators have been more willing to hang on to them. So, if Pipeline Health wants to grow, they have to grow outside California."
For reprint and licensing requests for this article, CLICK HERE.