The stocks of biopharmaceutical companies, which showed exceptionally robust growth last year amid the Covid-19 pandemic, seem to have entered an adjustment phase this year.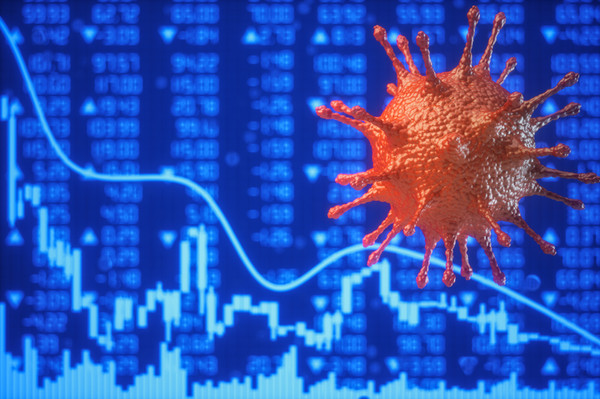 The slowdown comes as the local stock market continues to show a steep upward trend since the turn of the New Year.
The benchmark Korea Composite Stock Price Index (KOSPI) had enjoyed a historical run after it closed at an all-time high of 3,208.99 points on Monday. It was the first time that KOSPI hit the 3,200 mark in closing, although it has touched the milestone in mid-day trading several times, including Jan. 11.
The secondary Korea Securities Dealers Automated Quotation (KOSDAQ) market also rose above 1,000 points on Tuesday for the first time in more than two decades.
Experts pin the recent huge success in the local stock exchanges on retail investors, often referred to as the "colony of ants" due to their active trading style and small investments.
According to a Korea Exchange report, individual investors that left the stock market after two global economic crises — the collapse of the dot-com bubble in the early 2000s and the global financial crisis in 2008 — returned to the market in a big way.
The report showed that retail investors' purchase of shares surpassed the sale of shares by 47.5 trillion won ($42.4 billion) in the KOSPI market alone last year.
While big IT and manufacturing companies continue to enjoy the individual investors led stock frenzy, however, the healthcare sector, after reaping huge benefits last year, seems to have run out of luck, showing mixed results in 2021.
"There is a growing awareness that a bubble in the biopharmaceutical industry led the local stock market last year," said Lee Jun-soo, an analyst for Prophet Asset Management. "It is clear that the investment sentiment is shifting to a large-sized high-end stock in other industries with relatively low risk of investment loss this year."
The change continues as many companies in the top 20 market cap have already exceeded their target prices this year, with their share in the stock market increasing.
Lee stressed that it has become difficult for pharmaceutical and biotechnology firms, which have been at the center of the market's virtuous cycle of Covid-19 issues and liquidity funds, to continue to thrive.
"This will be a year once again when biopharmaceutical companies have to prove their worth by demonstrating tangible results in concrete figures," he said.
Lee's analysis is backed by the stock price difference of top 100 market cap biopharmaceutical companies.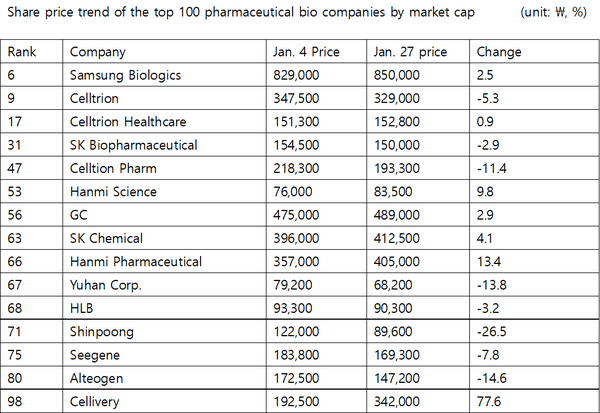 Of the 15 biopharmaceutical companies currently ranked in the top 100 by market cap, only seven have risen in stock prices, with three drugmakers — Hanmi Science (9.8 percent), Hanmi Pharmaceutical (13.4 percent), and Cellivery (77.6 percent) – being the only ones experiencing share price increases of more than 5 percent.
Industry insiders also notice that investors focus on several top stocks whose earnings are improving sharply every year based on stable cash cows rather than the Covid-19 theme stocks, which led to last year's stock purchase frenzy.
"With the release of vaccine treatments, the investors' interest in biopharmaceutical is again shifting back to technology stocks, such as rechargeable batteries," said Jang Min-hoo, a Medpacto spokesperson, "Of course, many companies are developing treatments or vaccines of Covid-19, but many others are also promoting their shares by trying to connect anything they had to the novel coronavirus."
Jang stressed that now is the time to return to a pharmaceutical company's original role and develop various treatments, including anticancer drugs and intractable diseases, to address patients' unmet needs.
"Of course, the development of these treatments was not easy due to Covid-19," he said. "With the rollout of the vaccine near at hand, we believe that it is time to start trials in earnest."