Investment Thesis
If the coronavirus pandemic had not occurred and caused the REIT to suspend guidance for 2020, senior housing and nursing home landlord, National Health Investors (NHI), would have reported financial performance through the first half of the year in the top end of its guidance range.
You read that correctly. A publicly traded real estate owner of senior-oriented housing communities has been firing on all cylinders this year, even as the COVID-19 virus menaces the senior population with many multiple times higher mortality rates than younger age groups. Even as some of the worst outbreaks in the US have occurred in nursing homes and senior living centers. Even as senior-oriented housing operators have been beset this year with higher costs associated with the virus.
What is NHI's secret weapon? Or rather, what is its secret shield against the ravages of the worst pandemic in a century that particularly targets the occupants of its properties?
Well, as I explained in my initial coverage piece on NHI in January, 2020, expounded upon in my June, 2020 update, NHI differentiates itself from most of its senior housing peers by using triple-net leases. Contrary to the senior housing operating portfolio ("SHOP") structure, in which the landlord also bears many of the expenses and revenue fluctuations (as well as profit upside) associated with operating a senior housing community, NHI uses leases that shield the landlord from both the downside and most of the upside of the operations.
Triple-net leases stipulate that the tenant pays for all property-level expenses, such as property taxes, insurance, and building maintenance. Typically, these leases have regular rent escalations built in, and for NHI's properties, these are often over 2% per year. And crucially, in these leases, the landlord bears no financial responsibilities for the operations of the business. It just collects rent.
That's how NHI has managed to whistle past the graveyard this year, in spite of the deadliest pandemic since the Spanish Flu.
At the time of this writing, NHI offers investors a 7.89% dividend yield while trading at a stunningly low 9.95x multiple of expected 2020 AFFO. The market seems to be pricing in much worse performance through a Winter Wave of COVID-19, but I believe NHI is well-positioned to handle whatever the virus can plausibly throw at it. Thus, I view now as a great time to buy this wonderful REIT at a wonderful price.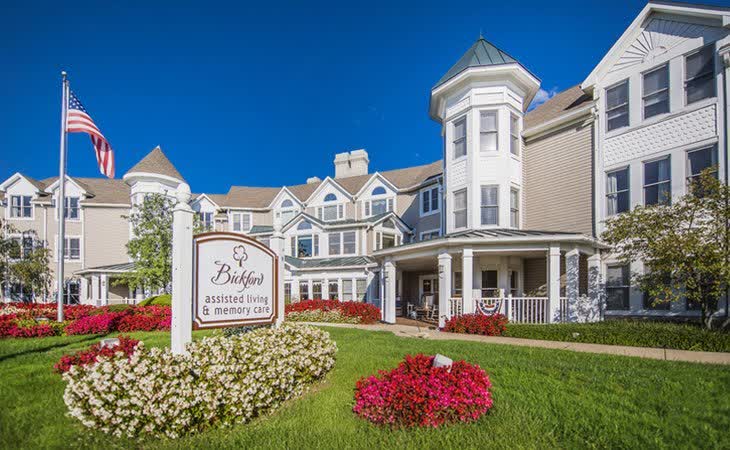 Rent Collection In A Pandemic
Due to NHI's use of triple-net leases, it has been able to achieve peer-leading rent collection rates throughout the pandemic. In the second quarter, NHI collected 100% of contractual rent. In July, that percentage dropped to 96.9% of contractual rent, as NHI agreed to defer rent for one of its operators (Bickford). NHI collected 95.3% of August rent, as of its August 18th update. And in September, the REIT collected 96.6% of contractual rent, with the rest either already deferred or under negotiations for deferral.
As of the latest updates, deferred rent is set to continue into Q1 2021, but repayments are scheduled to begin July 2021 and will accrue interest at a rate of 8%. In other words, NHI has turned its deferrals into another investment opportunity, with the deferred (uncollected) rent "invested" at an 8% yield until the owed amount is repaid.
As CFO John Spaid explained on the Q2 conference call, NHI management is doing everything they can to help their tenant-operators during this difficult period, but they are also doing so in a way that is beneficial to NHI.
In some cases, we are pursuing a strategy of temporarily releasing deposits and escrows back to our tenants as a means to support our operators' cash flows in lieu of deferrals. In addition to-date, all our rent deferral discussions with our tenants have included equitable compensation for any proposed deferral.
From here on out, deferred rent should make up no more than 1.7% of contractual monthly rent, as long as occupancy holds steady and operators are financially able to abide by their obligations. For October, rent collection rose to 97.8%, up a few points from August's rate.
Rent collections aren't bad at all considering the 2-7 point drop in occupancy rates experienced by three of NHI's top tenant-operators from March to September:

Source: October Update
This despite the well-known ravages of COVID-19 on many senior-oriented housing and care communities. According to the Q2 conference call, NHI had 450 active COVID-19 cases in 85 of its properties on August 4th, the second highest weekly number since beginning to keep track of it in mid-March.
The good news is that as the healthcare industry has learned to treat COVID-19, the mortality rate has declined. For one of NHI's top operators, Senior Living Communities, there was only one death of a resident from COVID-19 from mid-May to mid-August (11 deaths from COVID-19 total, out of 2,900 residents).
The Portfolio
NHI's properties are mostly concentrated in the eastern half of the United States and along the West Coast, with one in Colorado and a few in Arizona.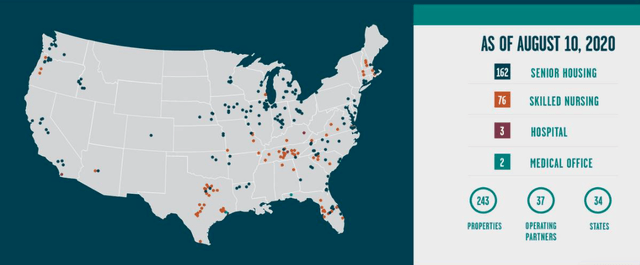 Source: Q2 Investor Presentation
The REIT focuses mostly on senior housing, of which the portfolio is split roughly evenly between need-driven (assisted living) and discretionary (independent living and entrance fee communities) housing. More medically oriented facilities, such as nursing homes, memory care centers, hospitals, and outpatient medical office buildings, collectively make up slightly less than a third of the portfolio.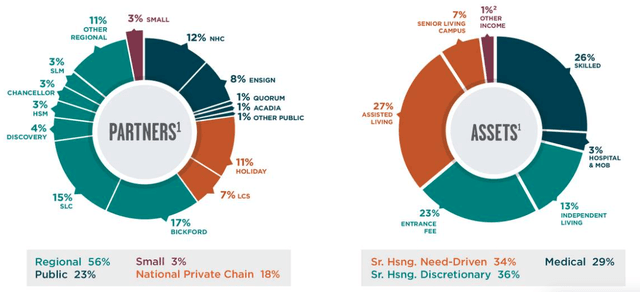 Source: Q2 Investor Presentation
Like other senior-oriented REITs, NHI does have a segment of the portfolio dedicated to mortgage loans and construction lending, but the vast majority of revenue is derived from NHI-owned, triple-net leased real estate.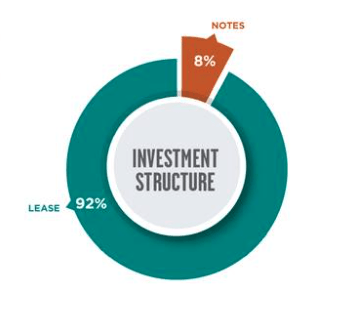 Source: Q2 Investor Presentation
Often, NHI will stipulate the option to purchase the real estate in its construction loans, thus expanding its pipeline of acquisition opportunities.
Now, looking at tenant-operator EBITDARM (earnings before interest, taxes, depreciation, amortization, rent, and management fees) coverage, we see where the rubber hits the road for triple-net leases. While coverage has unsurprisingly shot up for hospitals, medical office buildings, and need-driven skilled nursing facilities this year, coverage has deteriorated a bit for senior housing.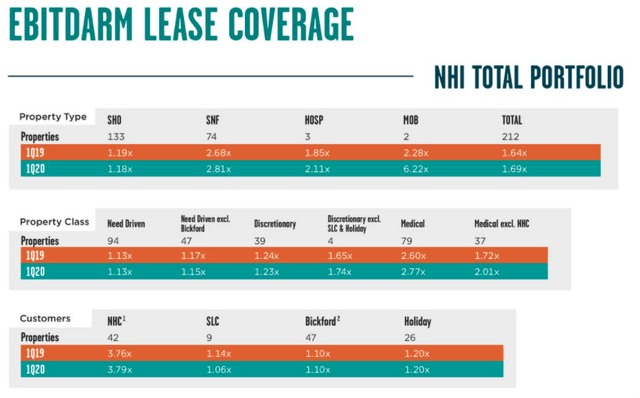 Source: Q2 Investor Presentation
One tenant-operator in particular, Senior Living Communities ("SLC"), EBITDARM coverage was dangerously low in Q2 at 1.06x. Fortunately, the Q2 conference call gave the indication that coverage was holding steady and could possibly improve in the coming quarters.
What's more, as you can see below, very few leases mature anytime over the next few years, and most if not all of those maturities will likely see a renewal rather than a tenant move-out.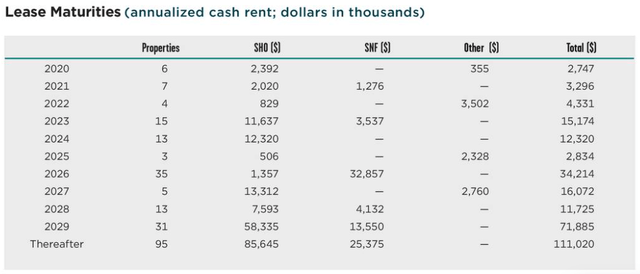 Source: Q2 Investor Presentation
The cap rates on senior-oriented real estate are quite high, at least compared to other triple-net lease sectors. As you can see below, they range from 6.5% to 8% – and these are just the initial yields, not counting the typically annual rent escalators.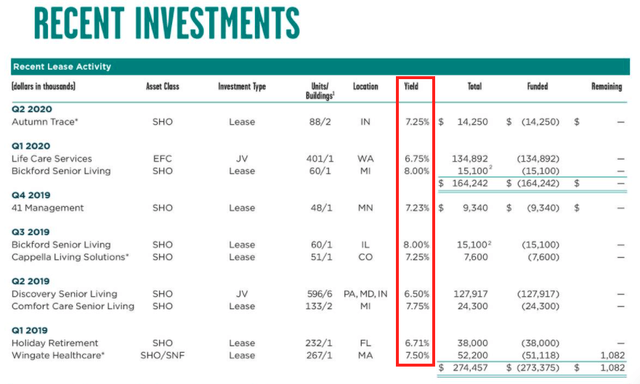 Source: Q2 Investor Presentation
Also, the loans NHI gives to senior housing operators often range between 8% and 11% (or higher), thus raising the weighted average asset yield of NHI's portfolio.
Company Finances
In spite of the aforementioned difficulty facing its tenant-operators this year, NHI maintains impeccable finances. But before looking at financial performance and ratios for 2020, it's helpful to remember that in the five years leading up to this year, NHI performed phenomenally well: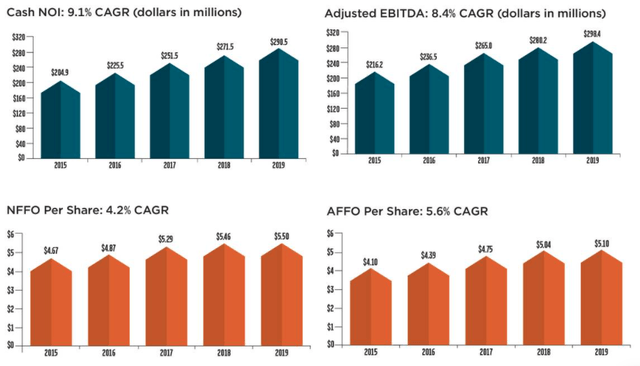 Source: Q2 Investor Presentation
This was through a period (2015-2019) when most other senior-oriented REITs (namely, those with material exposure to underlying business operations) either stagnated or performed poorly.
In the first half of 2020, cash net operating income ("NOI") rose 8.87% year-over-year, a sign of the strength of NHI's assets (especially its triple net leases) in the midst of a pandemic. In the second quarter, cash NOI was up 8.5% YoY. This translated into AFFO growth as well. To quote CEO Eric Mendelsohn (from the Q2 conference call),
Our second quarter and year-to-date AFFO growth have been above our initial projections, reflecting the strength of the triple-net lease strategy.
Now, turning to financial ratios, it is instructive to notice that NHI's financial situation did not deteriorate in the first half of the year. Quite the opposite.
Below, we find that NHI's interest and fixed charge coverage ratios improved year-over-year in Q2 2020. What's more, net debt to EBITDA of 4.8x is in line with its levels from previous quarters and still under the REIT's target leverage ratio ceiling of 5x.
Far Right Column = Q2 2019; Far Left Column = Q2 2020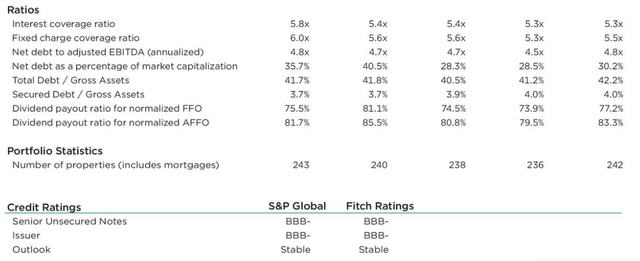 Source: Q2 Investor Presentation
Notice also that for Q1 and Q2 of this year (the two columns furthest to the left above), NHI's payout ratio based on AFFO hasn't shot up to dangerous levels. Rather, Q2 2020's payout ratio of 81.7% is slightly lower than Q2 2019's 83.3%.
NHI enjoys a very low cost of debt, with a weighted average interest rate of 2.87% (including the credit revolver). In July of this year, NHI secured a one-year (with an optional one-year extension) $100 million term loan for a 2.35% interest rate. The weighted average debt maturity sits at 3.4 years, and NHI does not have any material debt maturities until 2022.
NHI has only issued equity for capital raising once this year – right before the pandemic outbreak in the United States. It was only a small equity issue, perhaps in order to increase liquidity in the face of the oncoming outbreak.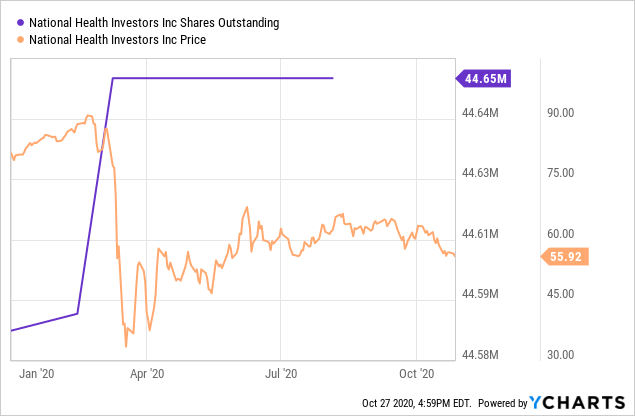 Assuming an average share price of $85, the equity issued earlier this year would represent a dividend yield of 5.2%. Now, let's put the two sources of external capital together. Assuming NHI could obtain debt financing at the same weighted average rate as its current, the REIT's weighted average cost of capital this year is around 4.27%. That's assuming NHI's target capitalization of 60% equity and 40% debt.
Of course, if NHI had to issue equity at its current, depressed stock price at a high dividend yield of 7.9%, then its weighted average cost of capital would shoot up to 5.89%. Fortunately, the REIT is well enough capitalized to not need such dilutive issuance.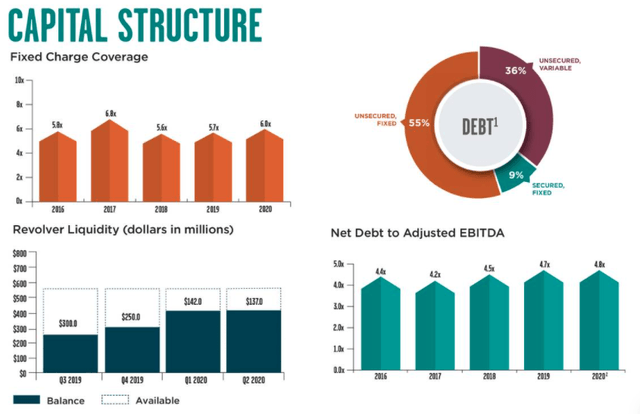 Source: Q2 Investor Presentation
At the end of the second quarter, NHI still had $137 million available on its credit facility, although that had increased to $237 million by the end of July. Plus, the REIT also had $83.9 million in cash at the end of July.
Conclusion
Aside from the stock price crashes during the Great Recession and in March of this year, NHI's stock has not offered this high of a yield at any time in recent history.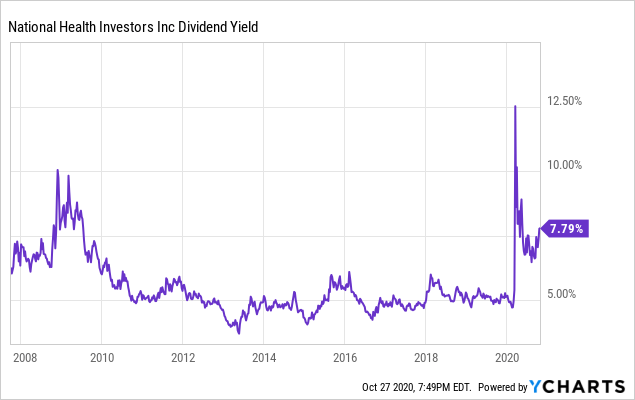 The market seems to be pricing in more pain from a Winter Wave of COVID-19. This fear is understandable but, I believe, far overdone.
Much has changed since the early months when healthcare providers did not know how to effectively prevent infection or treat the virus. The mortality rate for all age groups, including seniors, is down. Moreover, NHI's financial strength has not declined, meaning that it maintains the wherewithal to handle more deferrals, if need be.
Let's assume a mostly effective vaccine becomes available in December of this year. Accounting for the period of time necessary for wide distribution, a sense of relative normalcy could be reestablished around mid-Spring of next year. At that point, perhaps the largest hindrance to move-ins at senior housing communities – the restrictions on or outright inability of loved ones from visiting residents – will be lifted. After that, I would expect to see a lot of pent up demand from seniors who really ought, for their own health and wellbeing, to live in a community with access to care.
Can NHI survive until then? Can its dividend payout survive until then? I think so. After that, if the market rewards NHI with a higher valuation, then external growth should continue at its previous pace. That makes the stock attractive for dividend growth investors, even with the obvious risks in mind.
What Are We Buying?
We are sharing all our Top Ideas with the 2,000+ members of High Yield Landlord. And you can get access to all of them for free with our 2-week free trial! We are the largest real estate investment service on Seeking Alpha with over 2,000+ members on board and a perfect 5 star rating!
Join us today and get instant access to all our Top Picks, 3 Model Portfolios, Course to REIT investing, Tracking tools, and much more.
We are offering a Limited-Time 28% discount for new members!
Disclosure: I am/we are long NHI. I wrote this article myself, and it expresses my own opinions. I am not receiving compensation for it (other than from Seeking Alpha). I have no business relationship with any company whose stock is mentioned in this article.